House of Heroes
is an alternative Christian rock band from Columbus, Ohio. They have released four albums:
What You Want Is Now
(2003),
House of Heroes
(2005),
The End Is Not the End
(2008), and
Suburba
(2010). The band also re-released their self titled record under the name of
Say No More
. The band consists of brothers Colin Rigsby and Jared Rigsby, Tim Skipper, and A.J. Babcock (who doesn't tour).
The band got started in 1996 at Hilliard Davidson High School (Hilliard, OH), originally as a punk band called Plan B, with Tim Skipper, A.J. Babcock, and Nate Rothacker on drums. In 1998, Colin Rigsby replaced Nate Rothacker on drums and they changed their name to No Tagbacks, then later to House of Heroes. The band recorded early demos at Chris Lundquist's home studio LundquistAudio (formerly Lunkhead Studio). In 2003 they released their first album
What You Want Is Now
under the name House of Heroes.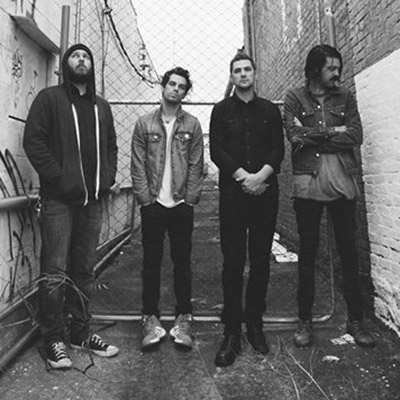 Jared Rigsby replaced A.J. Babcock as the band's live bassist in December 2005, as Babcock had married and focused on a side project with his wife called "FlowerDagger". Babcock eventually rejoined the band as the live bassist and Jared Rigsby became an official member as the band's second guitarist. In 2009, Babcock stopped touring for the second time and has been replaced by a live bassist whose name is Eric Newcomer. He appeared playing the bass in the band's new video for "O Come, O Come Emmanuel." Babcock continues to be a part of the band, involved with songwriting and recording. In March 2010 Colin Rigsby was replaced by Josh Dun on drums as Rigsby felt he needed to spend more time with his family. As of October 2010 Colin has resumed drumming for the band.